Well as good as Merlin 2x07 and 2x08 were, the last two episodes have made me pissed off at the show (especially the effing writers) all over again, which is annoying! >:(
I'd always rather be on good terms with my shows, but when they have such bad characterization, and when they reduce my favorite character/cast member to nothing more than a recurring character (like Leon or Nimueh--though I think the later got more screentime in season 1 than Morgana has this season even so!) at best, or a glorified extra at worst, I can't enjoy the show very much....the preview for next week also makes me very worried about Morgana getting character assassinated. She hasn't gotten enough development this season to be going "evil" already.....:(
Anyway, with that and the lack of Morgana in general, I'd say it's as good a time as any to post my first ever picspam (naturally it's of Morgana!), specifically about my own vision of her fall from grace and descent into darkness, how *I* think it should go, in a way that wouldn't ruin the character, IMO....I am making and posting this specifically for a challenge on
merlin_land
, an interactive community I participate in, on behalf of Team Morgana, of course! ;) The comm is worth checking out if you ever have the time...
Season 1 pictures only: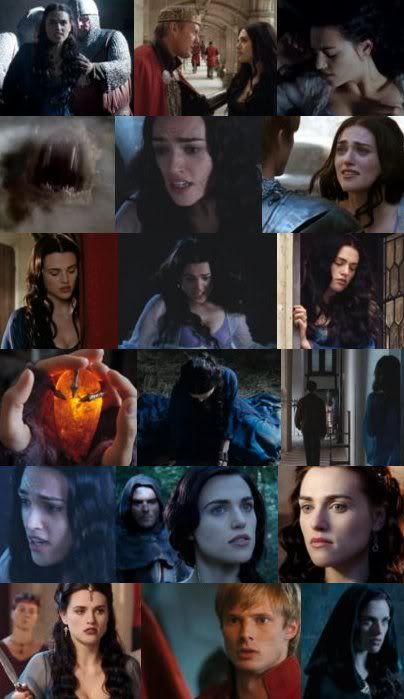 Some explanation:
This picspam goes in chronological order, beginning (in the first bar) with Morgana as a bold, spirited, young woman who constantly has friction with her guardian Uther over his different beliefs and harsh policy against magic, and who has scary, prophetic dreams that she keeps a secret for fear of Uther's intolerance towards anything magical. In the next line these dreams begin to worsen, occurring more frequently and showing her terrible futures for her loved ones--making Morgana feel more and more anxious and desperate, not to mention weak and powerless about her situation (third bar). At the same time (bar 4), she begins to discover and develop more magical abilities besides prophetic visions, and begins to get caught up in it, which along with her continued friction with Uther and her worsening visions, leads to her increasing isolation from everyone, and her gradual turning against Uther (bar 5). Finally the discovery of her magic by Uther forces her to flee Camelot and causes her to turn against it once and for all (Arthur included, since he remains loyal to his father), and the last bar shows Dark!Morgana.
Screencaps made by me on WMM...hence the not-so-great quality! (Will have to improve on that in the future, I know...)
Current Mood:
irritated
Current Music: "Weak and Powerless" by A Perfect Circle