Here is a massive (53 photos!) picspam that I made for
merlin_land
(Team Morgana ftw!), centered on the epic tragedy that is the relationship between Uther/Morgana, especially in season 2. I had the Regina Spektor song "Samson" in mind while making this, as IMO Morgana is Uther's sweetest downfall, and the same is true of Uther for Morgana. Whether you view them romantically or platonically (I enjoy both), I think they are one of the most fascinating dynamics of the show, and this was one of the few relationships on the show that did
not
utterly disappoint me in season 2. ;)
So in this spam I analyze and trace their relationship (especially its fall) through almost every scene of significance between them in season 2. Caps by Emma-Jane taken from
here
. Enjoy!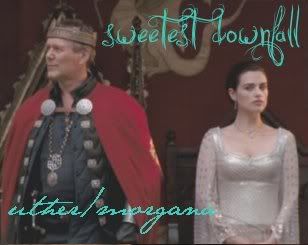 Here was the first major U/M interaction of the season, in this touching scene in which Uther's love and adoration for Morgana is so utterly clear. Earlier in the episode he says that if something were to happen to Morgana, he would die a bit inside, and you can see his relief at her safe return here, especially the way he closes his eyes as he holds her close in the first shot. I love the way he affectionately touches her face (something he does time and time again on the show), and then feels compelled to go in for a second hug in the end!
Morgana, while much more tentative towards him in this scene, given her earlier expressed fears about her magic, still seems to take some comfort from his embraces. Thus we begin season 2 with Uther openly concerned for Morgana, while Morgana begins to feel more and more hesitant and uncertain towards him, but still deep down loves and cares for him.
In the very next episode we see yet another heartfelt reunion between Uther and Morgana after Morgana has been separated from him and in danger. I especially love the shot of him with his arms open, ready to embrace her. Uther is normally a very reserved man, keeping his emotions close to his chest, rarely hugging or showing affection towards Arthur (so that Arthur even believed as per 1x09 that he was a disappointment to his father). But with Morgana Uther throws all reserve to the winds--he is constantly hugging her and touching her affectionately on the show, here stroking/holding her face once again.
I love the different, softer, more emotional and vulnerable side of Uther that only Morgana regularly brings out in him. She is definitely one of his greatest weaknesses, as this episode emphasizes all too clearly by the fact that Uther's enemy decides to exploit that weakness by kidnapping Morgana and holding her for ransom--clearly Uther's especial love and concern for Morgana is well known....
In this scene though we also see more tension between them than in the last one, as Morgana is upset and distressed with Uther for refusing to help her dear friend and maid Gwen, because she is only a servant. This theme of Morgana's frustration with Uther's class snobbery and refusal to help those in need because he considers them to be unimportant has come up before, though sadly this is the only time it comes up this season. Thus this scene highlights both the affection and the common strains/conflicts between them.
On a more shallow shipper note, I particularly enjoy the last shot I included here, with her resting her hand on his arm to get him to turn around as she pleads with him on Gwen's behalf. ;) Even without a shipper lens, she is once again using her wiles to manipulate him into doing the right thing, trying to push the right buttons. This is perhaps the only scene in season 2 in which we see Morgana playing her role of season 1 as Uther's conscience.
Here I put together three different scenes from episode 2x07. In both of the first two scenes we see Morgana reacting to Uther's hardline magical crackdown and investigations with increasing fear and alarm. The events of this episode make Morgana feel ever more uncertain and worried about how Uther would react to the knowledge of her having magic. Despite his earlier evident affection in 2x03 and 2x04, his actions in 2x07--especially his turning so readily against his longtime loyal friend Gauis--increase Morgana's doubts and fears about whether Uther hates magic more than he cares for her, until they override all signs of his love for her in her mind.
In 2x12 she states to Morgause that the reason she wanted him dead was because she believed that
he no longer cared for her
--her fall from grace is all about Uther and her complicated relationship with him, in other words (he is her downfall!). She probably decided to hate him so that it wouldn't matter if he didn't love her, she wouldn't have cause to feel hurt and afraid. And I think that it is in this episode that her doubts and fears begin to overpower her reason and positive experiences of affection with Uther, especially in the scenes I highlight.
However in the final scene I show we see that Uther does indeed still love and care for Morgana and her safety, as seen in the fear and alarm on his face when the Witchfinder begins threatening her with the knife. I kind of see that last cap as Uther thinking, "whoa, shit just got real!" ;) Suddenly so much more is at stake for him, for the third time a villain realizes and exploits Uther's attachment to Morgana for their own ends, understanding that she is his weakness.
Uther and Morgana did not interact much during 2x08, but here we get our final glimpse of the state of Uther and Morgana's relationship before its final disintegration in 2x11. They are sitting together to watch Arthur compete, but the tension between them is palpable, especially in the middle two shots. While some of their tension probably comes from the danger Arthur is in, I think it also speaks volumes about how they feel about each other at this moment. They are no longer as comfortable with one another as they once were, they've grown even farther apart.
I admit, the shipper in me also loves how much Morgana looks like his queen in this scene, sitting by his side, and especially the last shot in which they are inadvertently making the same gesture with their hand as they watch the fight! ;) Even if viewed in a platonic light, this scene shows again the place Morgana has as the foremost woman in Uther's life and at his court. It still angers me that we never saw any exploration of how Morgana felt at being replaced by Katrina in this function in 2x05-2x06.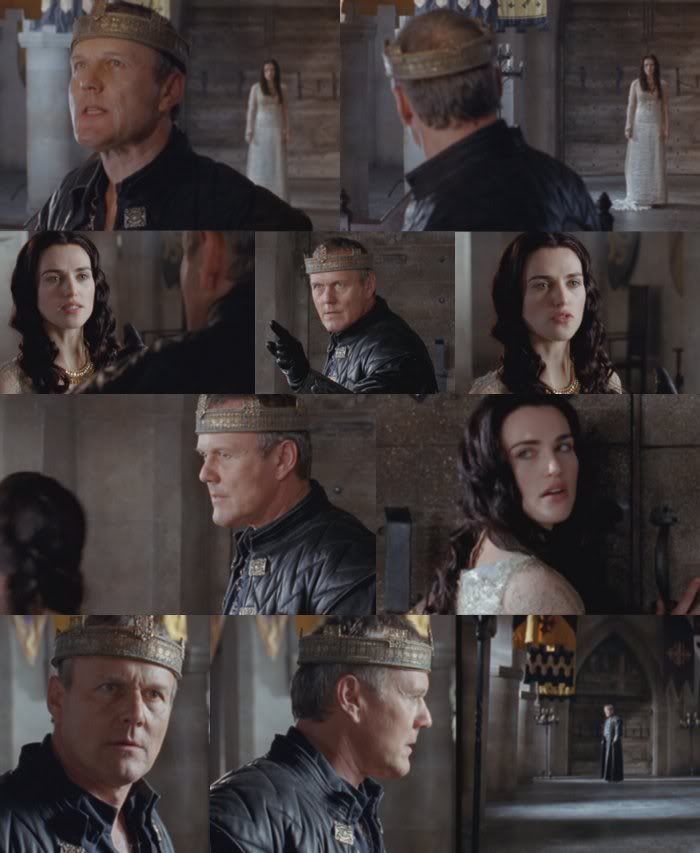 And here we have "the break-up" scene, when Morgana finally breaks with Uther once and for all, saying she disowns him and no longer knows him after he insists on executing Alvarr during their final fight. I noticed that the fifth cap is the last time we see Uther and Morgana in the same frame, sadly. :( This whole scene breaks my heart to itty bitty pieces, especially thanks to Anthony Stewart Head's wonderful facial expressiveness. His face just looks so shocked and vulnerable and devastated as she walks out on him, before he quickly turns away, and then he looks so lost and forlorn, standing all alone there in his Great Hall--alone because he drove away one of the people he loves most in the world.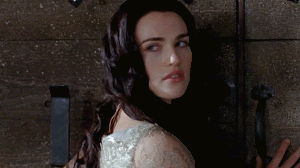 (Sorry, I forget who made this gif!)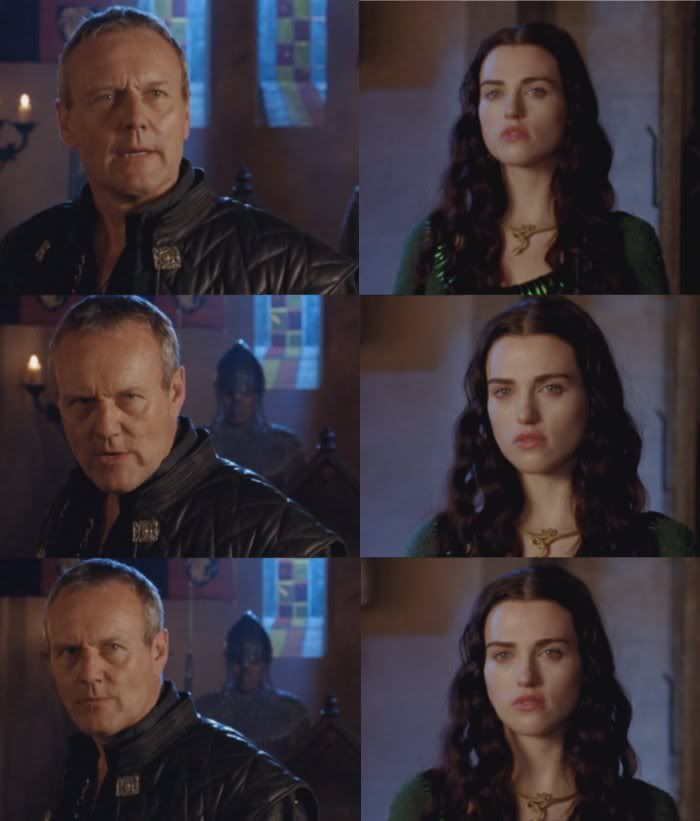 Then here we have their last interaction on the show--Morgana coming into the hall after Uther has heard news of Alvarr's escape, defiantly flaunting her involvement, her open betrayal of Uther. Yet though it's clear that Uther realizes she has betrayed him, he does not admit it, but merely warns her about any future betrayals--we finally learn once and for all that he does love her unconditionally, that even when she openly betrays him, he can't bring himself to punish her or hurt her. I think in Morgana's face at the very end we see a little surprise, as she realizes perhaps that she miscalculated, was wrong about how he'd react--but it's too late now, she's already broken off from him, and cast her lot with his enemies...
Despite vowing that she wanted Uther dead to Morgause earlier, in the scene here she cannot bring herself to slay him herself, even though Arthur has unwittingly given her the means to do so, and nobody is around to see it. You can see how torn and conflicted she is, her old love warring with her new hate for Uther, as she gazes at him, full of indecision, and ultimately does nothing but watch him. I was glad that she did not hate him enough to kill him then and there...I don't know that she can do it, especially not one-on-one. Her feelings of love deep down make it too hard for her, IMO.
Then we see Morgause taking her away, and Uther's shocked and then utterly shocked and horrified expression when he sees his beloved ward disappearing right in front of his eyes--when he realizes that he has lost her, that she is gone. Once again Head's acting is superb, expressing so much with just his face and eyes...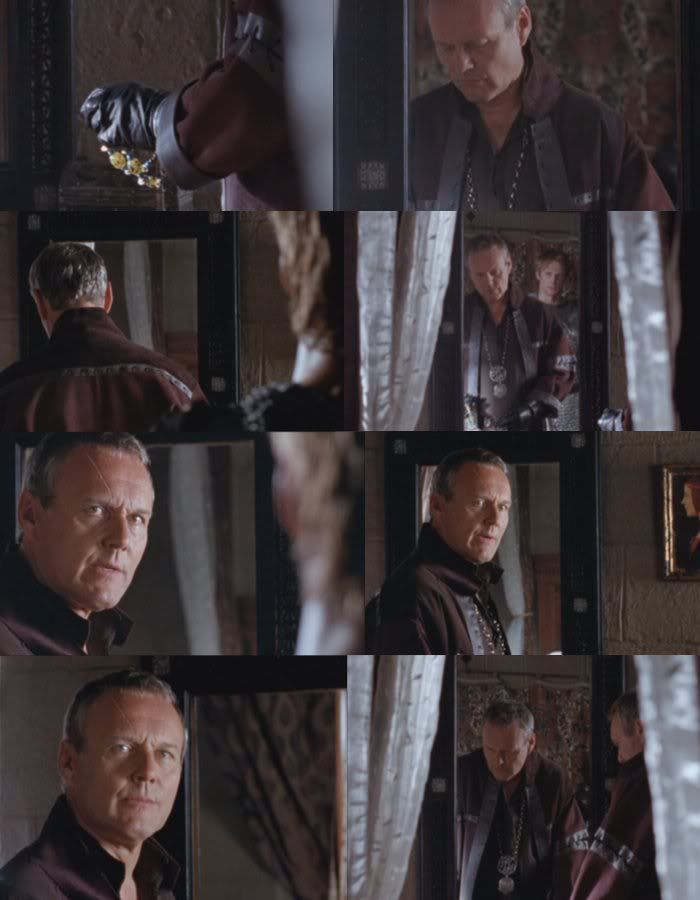 Morgana is not physically in this scene, but the memory of her is palpable, as Uther forlornly holds her things in her room, trying to call up her presence as best he can. I think this scene broke my heart more than any other scene on the show (even the "break up scene"), he expresses so much even though he says so little. You can see that something has died inside him with Morgana gone, as he predicted in 2x03, and his world is much emptier now, he's a broken man. We also see his guilt over losing Morgana, in addition to his mourning. I don't think he will ever forgive himself for losing her.
Besides the emotion conveyed so effectively by Head, I also love how beautifully shot this scene was, with the reflections in the mirror. It's one of my favorite scenes of the show and the season, so I couldn't help capping it here! :) The scene even inspired me to write a
short fanfic
in which Uther reminisces about giving Morgana the necklace he is seen holding here.
Current Mood:
accomplished
Current Music: "Samson" by Regina Spektor