I've been working on this for ages, but I figured I had better post it before the next book in the series comes out this Tuesday! ;)
Medium:
Books
Fandom:
Vampire Academy
Subject:
Dimitri/Rose
Title:
Sleeping with Ghosts
Warnings:
Spoilers through book 4,
Blood Promise
Notes:
An angsty mix about Dimitri/Rose from the end of
Shadow Kiss
to the end of
Blood Promise
. (More under the cut).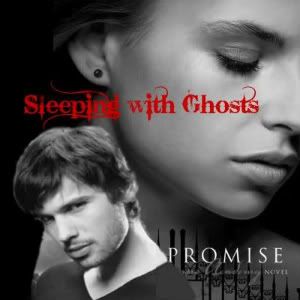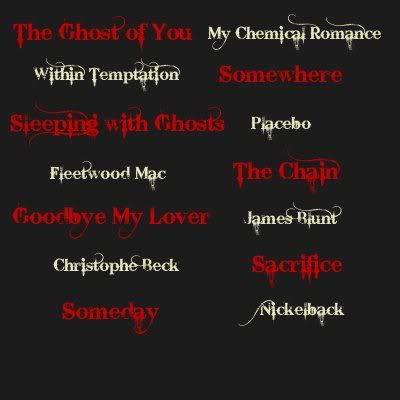 I just had to do a Dimitri/Rose fanmix after recently finishing the fourth book in the Vampire Academy series,
Blood Promise
. It was in this book that their relationship reached truly epic proportions, IMO, and when I heard the title song "Sleeping with Ghosts" I was truly inspired. I think that this song title fits the whole situation well, in that all the time that Rose spends with Strigoi!Dimitri in this book—all the time making out and fooling around and talking—is really only like sleeping with the ghost of Dimitri, however much she tries to convince herself otherwise for a while. The repeated "soulmates never die" line within the song is also fitting, I think, because there *is* still a connection between them, a chance to be together forever even after he has turned evil, and it does seem to her at times in this book that her soulmate, Dimitri, hasn't really died. We even get hope at the end of the book that she can get him back the way he used to be—which would also be an instance of soulmates never dying….
Anyway, I attempted with these songs to sketch in chronological order the progression of the D/R storyline from Dimitri's "death" in the end of
Shadow Kiss
to the glimmer of hope that Rose receives at the end of
Blood Promise
that she can someday make things right with Dimitri and restore his soul. I tried my best to match quotes from these two books that mirror the essence of the select lyrics from each song.
1. "The Ghost of You" by My Chemical Romance
At the end of the world
Or the last thing I see
You are never coming home
Never coming home…
And all the things that you never ever told me
And all the smiles that are ever gonna haunt me
Never coming home
Never coming home….
And all the wounds that are ever gonna scar me
For all the ghosts that are never gonna catch me
"Is he…is Dimitri a Strigoi?"
He nodded.
My heart shattered. My world shattered. (Shadow Kiss, 425)

"He's gone. I will never hold him again." (SK, 441)

2. "Somewhere" by Within Temptation
Lost in the darkness, hoping for a sign
Instead there is only silence,
Can't you hear my screams?
Never stop hoping,
Need to know where you are
But one thing's for sure,
You're always in my heart
I'll find you somewhere
I'll keep on trying until my dying day
Wherever you are, I won't stop searching
Whatever it takes me to go
I set off, off to kill the man I loved. (SK, 443)

But I hadn't been able to forget Dimitri, or accept that he was essentially dead. He was the man I loved, the man with whom I'd been so perfectly in sync that it was hard to know where I ended and he began. My heart refused to let him go—even if he was technically a monster, he was still out there somewhere....I had to find him. I had to kill him and free his soul from that dark, unnatural state. I knew it was what the Dimitri I had loved would have wanted. (Blood Promise, 12-13)

3. "Sleeping with Ghosts" by Placebo
Hush
It's okay
Dry your eyes
Dry your eyes
Soulmate dry your eyes
Dry your eyes
Soulmate dry your eyes
Cause soulmates never die.
"It's like being a god, Rose. Strength. Speed. Able to perceive the world in ways you could never imagine. And…immortality. We could be together forever." (BP, 297)

"My exterior…my power, yes, that's different. Better. But otherwise, I'm the same, Roza. My essence hasn't changed. The connection between us hasn't changed. You just can't see it yet." (BP, 314)
4. "The Chain" by Fleetwood Mac
Run in the shadows
Damn your love, damn your lies
And if you don't love me now
You will never love me again
I can still hear you saying you would never break the chain
And if you don't love me now
You will never love me again
I can still hear you saying you would never break the chain
And that's when I knew. I finally realized the problem….He wanted me. Wanted me in the way people wanted possessions or collectibles. The Dimitri I'd known…the one I'd fallen for and slept with…that Dimitri would have said he wanted us to be together because he loved me. There was no love here. (BP, 395)

"Please....We need to be together."
"Why?"
"Because I want you."

I gave him a sad smile, wondering if we'd meet again in the land of the dead. "Wrong answer," I told him.

I let go. (BP, 425)

5. "Goodbye My Lover" by James Blunt
Did I disappoint you or let you down?
Should I be feeling guilty or let the judges frown?
You touched my heart you touched my soul.
You changed my life and all my goals.
And love is blind but then I knew it,
My heart was blinded by you.
I've kissed your lips and held your hand.
Shared your dreams and shared your bed.
I know you well, I know your smell.
I've been addicted to you.
Goodbye my lover.
Goodbye my friend.
You have been the one.
You have been the one for me.
In truth it was a goodbye kiss....I would never forget Dimitri, not for the rest of my life. And this time, I wouldn't forget his lessons. (BP, 395)

I'd had to finally accept my Dimitri's death. This one was a Strigoi. There was no future with him. I would not join him. (BP, 396)
6. "Sacrifice" by Christophe Beck
[Instrumental]
I looked him in the eye. "I will always love you."
Then I plunged the stake into his chest....

"That's what I was supposed to say...." he gasped out. (BP, 426)

7. "Someday" by Nickelback
How the hell did we wind up like this?
But don't think it's too late
Nothing's wrong, just as long as
You know that someday I will
Someday, somehow
I'm gonna make it all right but not right now
I know you're wondering when
(You're the only one who knows that)
Let's rewrite an ending that fits
Instead of a Hollywood horror
All I knew for now was that I had a fleeting shot at saving Dimitri. Mark had said it was a fairy tale, but I had to take the chance. The question was: how long did I have until Dimitri came to kill me? How long did I have to figure out if the impossible was actually possible? (BP, 502)

First two and a half months. I'd promised my mom two and a half months. No action until then. (BP, 501)
Download Link: 7 Songs + Cover Art

Current Mood:
accomplished
Current Music: "Sleeping with Ghosts" by Placebo