God, this episode, I CAN'T EVEN....it was just SO incredible and amazing and perfect, with everything I have ever loved about this show wrapped up into one fantastic episode--it's definitely the best premiere so far, and one of the best episodes of the series to be sure! <333
This was me in gif form
immediately after I finished the epp, lol! ;) I stayed up too late waiting for the dl and watching it (there are disadvantages to being an hour ahead), and only got like 3 hours of sleep that night, but it was
completely worth it
! :D I'm just so happy that not only is my show back, but in such fantastic form (unlike the major disappointments at the beginning of last season)...
I've been so wrapped up in rewatching and squeeing over this epp around fandom that it's taken me a while to collect my thoughts in a somewhat coherent form, lol,
not to mention collect gifs of the episode from various talented people on LJ for ~illustration purposes
. So here are my thoughts, late as they are, and feel free to skip the shippy stuff if you so desire, I do have other stuff to say about the epp further down! ;)
First and foremost....
MITCHELL/ANNIE! MITCHELL/ANNIE! MITCHELL/ANNIE!!! <3333
MY OTP! How EPIC and beautiful and adorable were these two?! FINALLY, MY OTP IS BECOMING CANON!!! I've shipped these two like burning since season 1 (after their almost!kiss and after I'd thought about how perfect they are for one another), and after all the frustration and disappointment of season 2 especially, during which I almost despaired of ever seeing the writers develop a romantic relationship between these two, all this Mitchell/Annie goodness and road to canon at last is just putting me on cloud 9, I just about exploded with squee while watching the scenes, especially at the end! :D
And lol, I love how here Lia basically vocalizes everything I (and other shippers) think about the pairing (thank you writers for paying attention! ;)):
Lia: Is there anything going on between you guys? I mean, he came to purgatory to find you, puts my ex-boyfriend's tattoo into perspective.
Annie: We're just friends.
Lia: You'd be so adorable, you two. I could eat you up!
Annie: I'm dead.
Lia: So is he! I think it's meant to happen. I think it's...fate.
TRUFAX, Lia, so much trufax! So yes, it's quite clear that Lia has something nasty planned ("we play the long game here," as she says), and that she was deliberately encouraging a Mitchell/Annie romance to further said evil plan (increase their suffering?); I'm beginning to suspect that the whole 'trying to get Annie' thing from the beginning might have been part of some plan to get to Mitchell, that they wanted to lure him into purgatory with her, and hence they let her go so easily once he got their and had heard Lia's spiel and prophecy. It might also explain why he felt her passage into the afterlife like a physical pain (though I also like to think it's because they're soulmates! ;)). I'm quite worried about Mitchell and that prophecy (DNW him getting killed by a werewolf this season, omg! :( Unless he then gets resurrected a la Herrick at the end of season 2...but yeah it's not the show without the 3 of them, and I want M/A to eventually have a happy ending!), and that Mitchell/Annie is going to lead to some serious angst and heartbreak. However I don't care if they're doomed rn, I'm just basking in the glow of how COUPLEY they are! :D I mean the LOOKS, the dancing, the hugs, EVERYTHING, just epic....<333 Finally it's our season...
I mean, first there was how he was so desperate to go get her, he couldn't even think of anything else, and how certain of it he was, and the way he reached out to her and said her name when he saw her on the TV screen...
"I'm coming to get you!" (Hmm,
I've heard and seen that before
! ;) Hello BBC OTP crossover, lol....only these two men make that line not sound creepy, as someone pointed out! :p)
And of course he then GOES TO PURGATORY TO SAVE HER (which is pretty romantic and awesome in of itself), and I had to squee at the fact that on Being Human purgatory is a creepy empty corridor full of doors, much like the purgatory that Suze rescues her ghostly love from at one point in
The Mediator
series! :) Look at the picture:
I loved how he was willing to give himself up in her place, saying "I just want her back"--because he loves her Lia, duh! :p And then, when he does finally find her....*dies* *cue epic music*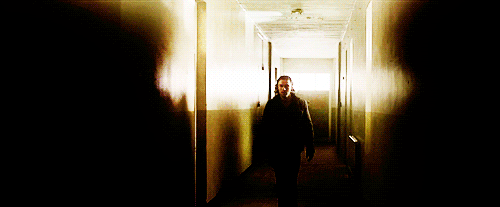 It wasn't just the running and her jumping into his arms for a lovely and adorable twirly hug (which was visually perfection in of itself), it was also the MUSIC, the epic, epic music that I NEED to have on my iPod now, if only they'd tell us what it's called and release some music dammit! :( (I'm a huge sucker for music as you all probably know by now, and this bit of score is my favorite so far!) I love the fact that if you study his face at the beginning of it, you can actually see a change in expression even before Annie calls out his name, as if he can sense her behind him, but is still daring not to believe it! (Again, soulmates! ;)). This is perhaps my favorite scene of the whole entire series, I've rewatched it about a bazillion times already, lol, I can't stop! :p Just EPIC, in a word....and followed by all this touching too, like they can hardly believe the other is real:
Really, this whole reunion was better than anything I could have ever dreamed of! :D
Especially when it was followed by THIS gorgeous scene that included an almost!kiss and MOAR hugging! ;)
And as someone noted, Mitchell basically hugged her out of purgatory, it must have been an epic hug! :p Also I really noticed in this scene how SIMILAR their hair is, which the shallow part of me also appreciates and sees as part of how it's ~meant to be...;)
Like ~SASSY~, the hair is half the pair!
But yeah, they just can't seem to keep their hands off each other, between the above scenes, and him leading her around the house covering her eyes (SO much like a couple!), and then dancing nerdily in front of her, and then THEM DANCING TOGETHER AND DOING MORE SPI
NS AND TWIRLS!
(Spinning seems to be Mitchell/Annie's new favorite activity, y/y?)
Nor can they keep their eyes off each other....;)
Just perfection, in short, I am one extremely satisfied and ecstatic shipper, and I can't wait to see it go even further! :D I still need to see a lot more icons and vids and picspams from fandom in the weeks to come from all of this, lol, I only just finally found a new icon to switch out for my M/A one today!

THE OTHER STUFF
While my thoughts on this episode/reaction to it were dominated by my excitement/satisfaction about my ship, I did enjoy the other stuff too! ;) This episode was epic even from the season 2 recap at the very beginning, which also had an amazing piece of music playing that really set the mood (this one I did manage to identify as "
A Wonderful Thing
," also known informally as "Nina's Goodbye" since that's when it memorably played first in season 2 I think)--again, they NEED to get this shit released, fast!
Then the opening scene of them looking at the bed and breakfast was awesome, I loved the bored, sardonic saleslady (especially her line about "thank goodness for Terry Prachett" lol), and George and Nina's bad/unconvincing acting (the "our friend is on Midsome Murders" was the best bad cover story! :p) and Mitchell being so preoccupied with Annie. I love the cheesy Hawaiian decor (especially the adorable luao it inspired later!)...:p I actually found that I didn't even really miss the old pink flat in Bristol too much, as I thought I would, I liked the new place and them settling in, and all the obligatory self-deprecating "because we film in Wales" humor that I've come to know and love on DW and TW, lol! ;)
While on the topic of humor, I also will forever laugh at Rhys showing up as a sexual pervert, lol--SO glad I caught up on TW in time to see this, so I could appreciate it all the more! ;) I wonder where Gwen was, maybe she was running late finding a babysitter, but no doubt soon got Rhys out with her TW connections! :p Also, the British Actor Incest/Bingo continues....but yeah, I like how that scene managed to simultaneusly bring on the laughs (Kai Owen nailed it!) and advance the 'other werewolf' plot AND create some drama and tension (with George trapped in jail needing Nina to bail him out and then them having to transform in the same place and try it out), all at the same time! That is this show at its best, when it balances the humor and the drama beautifully, and this episode did that in spades. Another example was the scene when Mitchell is going to cross over with the guy into the afterlife, I mean how freaking hilarious was Mitchell doing the crossword there with George, and the prayer thing immediately before, and then next thing you know it's all emotional and dramatic with the touching goodbye to a worried George. I also loved when the guy asked if Mitchell was Death, and Mitchell's reaction to this, he was probably thinking about how he had been Death to so many people, like on that train...
George and Nina also had some sweet and funny moments, with my favorite humor moments being when her hair got caught badly on the corner of his glasses (since this happens to me ALL the freaking time, albeit it's my hair catching on my
own
glasses, lol) and when she got him out of jail and was trying to hide her own transformational body stress. I was annoyed at her ragging on Mitchell and at first annoyed at how happy-go-lucky George seemed when Annie was missing and all, but I think the scene at the end when tears just started to stream down his face when he thought Mitchell had failed perfectly disabused us of this notion. In all a good episode for George, who has annoyed me in the past, but he didn't really annoy me that much in tonight's epp! Again, awesomeness all around...
Besides the Mitchel/Annie bits though the best part was definitely Mitchell and Lia on the train, seeing Mitchell's past and such. I loved getting more insight into Mitchell's character and history, and I *loved* the twist with Lia, which I did not actually see coming (I thought she kept saying "age 12" not "H12", lol, so I thought he did something to her as a child or something!). I adore Mitchell, he's my favorite, but he really did need to hear Lia's berating speech, so I loved that scene and was cheering her on, though my heart did break for Mitchell as well when he said he was a plague and that he was willing to stay there to atone. And Lia was just fabulous, great job by Lacey Turner there, especially once she stopped being flirty and shallow and showed her true colors! Also after seeing the US remake, I found it a little funny/ironic that one of Mitchell's victims was named Sally...;) It was amazing though that he could remember all of their names, for the most part, I mean wow...O_o
So good drama, humor, emotional moments, character introspection, this episode had it all! The only part of this episode I didn't like was the stranger!werewolf storyline (outside of where it coincided with the George and Rhys encounter, lol) and the cage match thing, those bits were okay, but a tad boring (especially when I was dying to see what was going on with Mitchell and Annie in purgatory!), and I skipped them during the rewatches. Hopefully that story will pick up though, I can't wait to see George or Nina encounter them again, especially if they find out the two of them live with a ~vampire, le gasp! Perhaps one of them, the boy, will fulfill the prophecy though? ;_; IDK, we shall see!
So a promising start to the season to be sure, I absolutely can't wait for next week to see what happens next! :) Oh show, I am so happy with you right now....<3333 I might give this epp another rewatch to cheer up if this week's SN depresses me too much! ;)
The excellent quality of this episode after watching the lame premiere of the US remake made the latter seem even weaker and sillier in comparison (like, why would you waste your time on this, when this EPICNESS is going on over here in the original?!). Since then I've seen the second episode of the remake, which was a lot better than the first (though it was also more of a scene-by-scene replica of the original, lifting entire dialogue and even exact camera angles from BH 1x01), but still, it just doesn't compare!
Oh and for those who saw this episode, please tell me if you think that the Epic Music of Epicness in *that* scene near the end has strains of "
The Ballad of Ianto Jones
" in it, if you listen starting @ 2:37 or so...when I was listening to the latter earlier today I suddenly went, "Wait a minute..." and then re-watched (for the millionth and first time, lol) That Scene from 3x01 to double-check the music there...at least
blue_emotion
agrees with me, and I'd like to hear other opinions on this matter! :p (I'm a soundtrack nerd, what can I say?)
Current Mood:
ecstatic
Current Music: "A Wonderful Thing" by Richard Wells