I can't believe it's already been over two weeks since the Being Human season 3 finale....what a first week it was for me too! O_o I don't think a finale has ever destroyed, upset, confused, and angered me as much as this one did (my first thought after it finished airing was "I HATE THIS SHOW!!!" ;_;), and it's probably good that I had a few weeks to mull it over and rewatch it and discuss it thoroughly across fandom before recording my thoughts here (although I did start this post a week after it aired, even if I'm only finishing it now). As much emotional turmoil as the finale caused me, it also heightened my obsession with the show (and Mitchell/Annie)--much of the first post-finale week I was basically eating, sleeping (or rather,
not
sleeping but staying up too late watching YT videos or whatnot...:/), and breathing BH, lol. Rewatching old random epps from all seasons along with a gazillion Mitchell/Annie vids on YT (lol), Tumbling BH and M/A-related posts like no tomorrow, discussing and debating, finally creating a M/A iPod playlist and planning out a M/A fanmix and thinking up a bunch of M/A vid ideas (assuming I can ever get some working software again), icon-hunting (finally replaced the last default M/A icon with one I liked better and got myself this new second one)...I even finally watched the original BH Pilot for the first time and caught up on the US BH! In short, the first week or so immediately after the finale this show and the Mitchell/Annie ship were completely eating my brain and owning my soul respectively...;)
Anyway, here are my thoughts, which have been somewhat tempered since my initial reactions, but I still stand firm on certain issues (MAJOR 3x08 spoilers, obviously!):
God, this finale....*sob* MITCHELL! I had been actually having a pretty shitty day the Sunday of the finale from the beginning, which increased my fears for Mitchell's safety because I knew that my favorite character being permanently killed off would just be the icing on my crappy day cake...and then it happened! :( (And after also being really frustrated with waiting forever for a dl and staying up too late). I have to say, as scared as I was because of
The Hobbit
and the indicators in the storyline and such, I think that deep down I still didn't think they'd
really
go ahead and kill him off for good! :( I thought maybe they'd kill him off and he'd come back like Herrick did (and that this was the point of Herrick coming back)....I've never felt so sick with fear and dread and horror during a TV show as I did during the scene when Mitchell was talking about how they had to stake him so he couldn't come back....I was basically screaming "NO! NO! NO!" inside the whole time...;_; I still can't believe he's really, truly gone for good, that's he's dead--that whole first week I kept realizing it again--while watching an old clip or seeing pictures or even watching "Aidan" on the US BH--and experiencing the shock and horror and despair all over...I was, and still am, in legit mourning, this has been by far the hardest fictional death for me. All the deaths on TW combined don't even come close (and I don't think it's just me knowing about those in advance).
Because it's not just that my favorite character, the one whose story gripped me the most throughout the seasons, the one who first drew me into the show the most, is gone. With it the show has gone too, IMO, at least its original premise and all it means. Because unlike on TW, or even ATS or any other show with major character deaths, the primary focus of this show IS these three specific characters--the vampire, the werewolf, and the ghost--and their relationships as they live together and struggle to be human. That's the premise, the show in a nutshell when you describe it to others--"a vampire, a werewolf, and a ghost share a flat--no, it's not the start of a joke!" Take away the vampire (not to mention the one that truly struggled the most with "being human" anyway, what with Annie and Nina almost totally human anyway and George pretty close), and you break the premise, take away an important linchpin of the show. The fact that the three 'types' are cohabiting, against all odds and expectations and prejudices, was the big thing, and one of the loveliest things about the show, having all three types of monsters together at once, seeing the beautiful friendship/bromance between the werewolf and the vampire despite the usual hatred and prejudice between their two species, as well as his friendship and later romance with a ghost when the latter type is looked down on by vampires usually as well. A second werewolf is fine as an extra, but does not fill the OT3 gap I'm afraid, in the premise. At best next season will be like a spinoff of BH, a new but related show, but not the original one I fell in love with and signed up for. I mean yes, perhaps there has been a bit too heavy vampire focus over the last few seasons in comparison with the other two (although I think they kind of made up for it with the whole werewolf storyline and new characters and the pregnancy thing), but I think there can be ways of amending that WITHOUT KILLING OFF THE ONLY GOOD VAMPIR
E! :( The idea of a season of just vampires as evil baddies trying to take over the world just sits badly with me....as does you know, the idea of a season without Mitchell. :/ At first I had absolutely no interest in a new season without Mitchell, since I do think BH without Mitchell is not really BH as I've said (to me it's a bit like trying to continue Supernatural if one of the Winchesters was permanently killed off--like if Sam decided he was simply too prone to evil/hurting people, too dangerous, to live and had Dean kill him for good--as he's begged in the past--and then they tried to have a season with just Dean and Cas and Bobby. To me it's a very similar situation). Yes, I know that Aidan leaving was a big cause of Mitchell's fate, but Toby also says he was basically writing Mitchell off since season 2, which bugs me--why don't you just try wrapping up the show satisfactorily with all three of them still around then, instead of writing just one character off? :/
Because for me it's not just that they killed him off that really pisses me off (I'm almost coming to terms that this was the only way left, though not entirely as I'll explain). I am just very angry and disappointed in general with the direction of Mitchell's arc after season 1, culminating with the train massacre, which I've always had issues with anyway, and when it then led to Mitchell's death I hate it even more now. >:( I miss season 1!Mitchell, the character I first came to know and love. Yes, rewatching some bits of season 1 since the finale I have come to see that this suicidal desire isn't totally new, and that it has always been a hard struggle for him. But I still just, IDK, it rubs me in the wrong way this solution to his storyline, since originally he was conceived as a metaphor for an addict, and the solution to being an addict is not to just KILL YOURSELF to avoid future addiction--you're supposed to struggle on living, like Buffy says in "The Gift," "The hardest thing in this world is to live in it"--but that doesn't mean life doesn't come with warmth and beauty as well. I just think it's a bit of a lame and weak ending, just deciding to erase all the pain in one go--he himself called the impulse cowardly in 1x06 when he tries to comfort Annie about George seemingly fleeing. This Advice!Mitchell macro (more
here
, lol) that the lovely
blue_emotion
made for me at my request kind of sums up my feelings a bit on this issue:
The message just doesn't really sit well with me....and again, it didn't have to be this way, they didn't need to make him fail like this...:( This is not the positive story I signed up for during season 1. *sigh* And what about Adam? What are they going to say to him next time he comes to call and asks where Mitchell is--"Oh yeah, turns out you can't fight it and stay clean, sorry, you might as well just commit suicide now like he did." :/ Poor guy...
I also have other issues with the finale, like the whole Lia reveal, which was ridic lame and disappointing as far as reveals go (I was expecting so much more!), and didn't make any effing sense to boot. The PTB spent ALL of season 2 conniving to get Annie into purgatory, only to just let her walk out free because of some random newbie who only just arrived and doesn't know anyone or have any connections?! O_o Like, why bother in the first place then? Why let this new person decide that--and how can she decide that anyway? How can she have SO much power as a newbie with no connections whatsoever, who arrived barely before Annie did? And what about the whole Hell thing now, since that can't have been part of the manipulation of Mitchell since it was happening too soon after Lia arrived....none of it makes sense, it's riddled with plot holes and inconsistencies, and just an overall rushed and disappointing end to a storyline that had tons of potential. It also made me no longer like Lia very much, I mean SERIOUSLY GIRL, you deliberately and maliciously plot to ruin the life of this innocent and sweet and wonderful girl, getting her to get together with Mitchell so that you could break their hearts when you killed him/took her away from him, and you think she's going to want to be BFFs with you?! >:( FFS, get real! And it really annoys me when I see people defending Lia as being blameless or whatever and not having had any evil intentions, because um yes, she clearly DID intend to do harm to an innocent besides Mitchell in her choice of weapon--Annie--unless one thinks Annie somehow isn't an innocent who didn't deserve any of this...she was KNEW she was going to have collateral damage from the beginning, not as extreme but still, and she simply didn't care....I don't buy her "oh I'm so innocent and had no idea golly me!" act.
And then there's Mitchell/Annie...*sigh* Oh my heart. I'm also kind of upset about how they panned out in a lot of ways. It was NOT supposed to go like this, when I began shipping them in season 1, they were going to be a happy, fluffy ship, he was going to be so good for her, and she him, and they were going to live happily ever after "for eternity" because they could, both being dead already and immortal (a nice change of pace from the usual "oh noes one of them will age and die because they are human with a vampire" drama).
I still might try to write this short fic someday
. I mean, I know I'm a d00med!shipper, and often attracted to d00med!ships, but I hate how this one just totally became one when I wasn't expecting it too (kind of like my first d00med!ship, Jake/Cassie, that perhaps started it all)....not fair! :( I really am doomed to ship d00med!ships it seems, even when I don't want to...;_; I still can't believe it turned out this way, so angsty and so little fluffy happiness. I need to read more fic to rectify this (I don't usually read it, but in cases like this I *need* it! I also don't like the way certain things played out, and Annie why can't you understand that vampires can't be arrested? :/ I also hated how gung-ho she was about staking him in the end there, didn't seem right for someone who supposedly loved him so much...*sigh*
But THEN, then there was the final kiss and this exchange, after all the touching and handholding earlier in the cell as well (which was still beautiful to look at even if the words were meh):
"And you were the love of mine..."
<3333 Lol I must have re-Tumbled this quote at least 10 times on Tumblr in different forms in the aftermath, definitely my favorite line of the epp, along with the George exchange (which I will discuss later). It had the potential to be cheesy (like Nine's "I think you need a Doctor" line), but the WAY that Aidan delivered it, gah, and the way Lenora delivered her line....it worked, and it was heartbreaking and beautiful! :( I wish they had included the far-away shot seen above on the epp.
Basically, the only way I will ever be okay with this ending for Mitchell and remotely satisfied is if at the end of the show we see Annie finally crossing over for good and seeing Mitchell waiting for her there on the other side (surely Aidan could return for one final brief cameo appearance at the end? it'd be like JDM's final appearance in season 2 SN's finale, with the same purpose), and them reuniting in one last happy twirly hug and getting to finally live our their promised eternity but without the problems of before....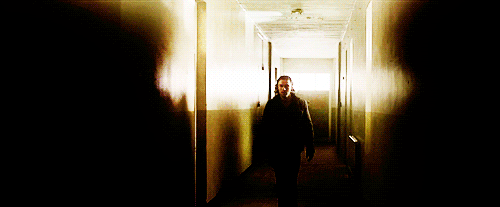 And we can have forever
And we can love forever
Forever is our today...
Because it does bother me that they never had the chance to work through their issues and have as fully mature relationship. :/ ). I need this closure, for Mitchell and Annie respectively and together (and it would comfort Annie leaving George and Nina behind to have Mitchell there). It would also make the angsty stuff more enjoyable for me (because I do love me some angst depending on the situation, and in some ways like it here as much as I hate it...but only if there's the silver lining in the future!)
(And yes, I kind of became obsessed with "Who Wants to Live Forever" by Queen, among other songs, when I realized just how
ridiculously well
it fit Mitchell and the M/A situation in this season and the finale especially...O_o
blue_emotion
had told me about the song, but it's not until I happened to hear it in full randomly on the radio (and wanted to cry then and there ;_;) that I realized the full extent of it...).
The Mitchell/George exchange was also heartbreaking (especially when I rewatched the scene of their first meeting and the werewolf-Herrick scene in 1x06...;_;), god those two just hit it out of the park acting-wise....:(
"I'm doing this because I love you." "I know."
...and "A WONDERFUL THING" playing! *sob* Now I will always think of Mitchell dying when I hear that bit of music I love so. :/ I still can't believe George was actually the one to kill Mitchell, though if it had to happen I'm glad it at least happened this way, I was afraid it'd be in the cage or something, and I'm glad they had the added dire urgency of the Old Ones' threat to Mitchell's integrity to make it more bearable in the moment. So yeah, that was also well done and emotional as hell...
I also loved the final Mitchell/Herrick scene. I've always found the Mitchell/Herrick dynamic to be fascinating, even when I didn't love Herrick as much as I do now, I love how hung up on Mitchell Herrick has always seemed to be, the way Mitchell is like his Achilles heel, his weakness or vulnerability, his soft spot (kind of like Morgana for Uther, *ahem*). It certainly makes him a more interesting villain/antagonist...and I love that *Mitchell* was finally the one to kill him in the end, as he should have been all along--that was actually something that had bothered me about the season 1 finale, that George did the deed instead of Mitchell, and I like that they corrected that here (and also took that death off of George's conscience as well). George killed Herrick for Mitchell and for their family, and here Mitchell is killing Herrick for George and the family as well, after what he did to Nina. Just an eerie, beautiful scene in all, and I love the strange, almost pleased and proud expression on Herrick's face just before he goes. So yes, one other good thing I liked about the finale.
In summary, RIP Mitchell, goodnight sweet prince! ;_; And Mitchell/Annie Forever:

(graphic by the talented
havens)

There's no chance for us
It's all decided for us
This world has only one sweet moment set aside for us
Who wants to live forever?
Who dares to love forever?
When love must die...
You will always have a place in my heart...<333 I'm still conflicted about whether to watch next season or not, originally I had no interest, but now I'm leaning towards "probably maybe," since I do want to see Annie become a BAMF and finally get more of a storyline. They better properly mourn/remember Mitchell on the show though, and realistically show its effects on the group, a la Doctor Who season 3, or I will be very angry!
Phew, good to finally get that done and out of the way, lol...hopefully tomorrow now I will be posting about my new obsession filling the hole in my life that BH left behind! ;)
Current Mood:
distressed
Current Music: "Who Wants to Live Forever" by Queen