I've been working on this mix for a while, but it took a
bbcland
challenge to finally push me to complete and post it, in relatively record time for me, lol!
Medium:
Television
Fandom:
Being Human (UK)
Subject:
Mitchell/Annie
Title:
Soul One
Warnings:
MAJOR SPOILERS FOR SEASON 3!!!
Notes:
A mix tracing the relationship between Mitchell and Annie throughout season 3.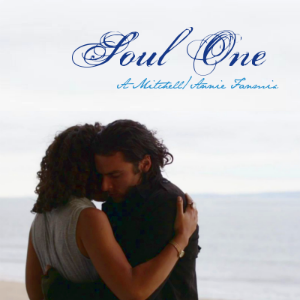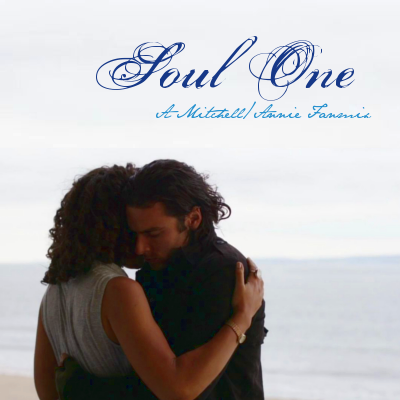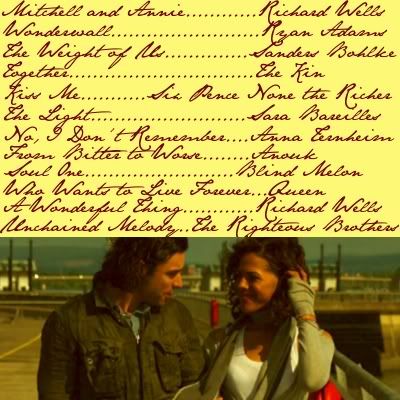 After the heartbreaking season 3 finale this pairing rather consumed me and my thoughts for at least a week afterwards. I had to make this fanmix for them, my tribute to my poor, unexpectedly doomed Being Human OTP. This mix traces Mitchell and Annie's romance from the very beginning of season 3, with the stunning unreleased instrumental track that underscores their epic reunion hug (which I found on YouTube uploaded by Beinghumanfan931), through the rise and fall of their relationship until his tragic death; it then ends with them reuniting in the afterlife at long last after Annie finally crosses over for good. I thought that "Soul One" made an appropriate title because I do believe that Annie is indeed Mitchell's soulmate (or 'soul one'), the way he could actually feel her being torn out of the world as a physical pain to him, the way he could sense her behind him in 3x01 before she called out to him, how he could sense her also in 3x04. I think they were meant to be, though fate had other ideas...

1) "Mitchell and Annie" by Richard Wells
[Instrumental]
(Aka the Epic Music of Epic from Reunion Scene in 3x01)

Mitchell and Annie joyfully reunite as he rescues her from purgatory.
2) "Wonderwall" by Ryan Adams
And all the roads that lead to you were winding
And all the lights that light the way are blinding
There are many things that I would like to say to you
I don't know how
I said maybe
You're gonna be the one who saves me?
And after all
You're my wonderwall
"You saved me!"
"You saved me too…"

"But with you…you give me a reason to take control back over my life. You give me a reason to start again."

Mitchell realizes how much Annie means to him, and that she could be the one for him. That she might save him…


3) "The Weight of Us" by Sanders Bohlke
Secrets - are mine to keep
protected by silent sleep
I'm not ready, I'm not ready
for the weight of us, for the weight of us
for the weight of us, for the weight of all of us
The time has come, let us be brave....
Shake off all of your sins, the time has come, let us be brave, let us be brave

"I've just got this fear that I'm going to lose her again…"
"So just tell her."
"Then I could really lose her. And it would just make our friendship weird."
"Or just maybe your friendship could become something else, something better.…"

Mitchell debates whether or not to start a relationship with Annie, hesitant about if it could work.

4) "Together" by The Kin
This is the day we come to say
All of the pain has come and gone away
This is the one winged dove
Today we come together
Now that we see the signs
Can we walk this line together?
Now that we know it's time
Can we walk this line together?
"You two would be so adorable together…"
"I'm dead."
"So is he. I think it's meant to be. I think it's…fate."

"But who knows…you two could be good for each other."

As everyone around them points out their potential as a couple, and as Mitchell and Annie realize their own feelings for one another, they decide to finally give it a try.
5) "Kiss Me" by Sixpence None the Richer
Oh, kiss me beneath the milky twilight
Lead me out on the moonlit floor
Lift your open hand
Strike up the band and make the fireflies dance
Silver moon's sparkling
So kiss me


Mitchell and Annie are an item, and Annie wants him to kiss her…

6) "The Light" by Sara Bareilles
In the morning it comes, heaven sent a hurricane
Not a trace of the sun but I don't even run from rain
Beating out of my chest, heart is holding on to you
From the moment I knew
From the moment I knew
You were the air in my breath filling up my love soaked lungs
Such a beautiful mess intertwined and overrun
Nothing better than this, ooh, and then the storm can come
You feels just like the sun
Just like the sun
And if you say be alright
I'm gonna trust you, babe
I'm gonna look in your eyes
And if you say be alright
I'll follow you into the light
Never mind what I knew, nothing seems to matter now
Ooh, who I was without you, I can do without
No one knows where ends, how it may come tumbling down
But I'm here with you now
I'm with you now
"You are my life…you give me life."

Annie trusts in Mitchell and their relationship, and she is his light as he is hers, but the impending storm of the Box Tunnel 20 and the Wolf-Shaped Bullet looms in the background, threatening to tear it all apart….


7) "No, I Don't Remember" by Anna Ternheim
No I don't remember
What brought us to this
What places we blindly passed
What turns we missed
When things really mattered
And we really cared
When simply being was easy
Just having you there
I was on a downslide, wasting my days
When I met you, I came to, such a lovely place
We laughed and cried our way through
The days and nights, the weeks and months
And all the seasons, ups and downs
Remind me of how, I used to feel
Remind me of who, I used to be back when
Nothing could come between us then
That thought would never leave us

As their relationship begins to crack under the pressure of Mitchell's secrets and stress over surviving the Wolf-Shaped Bullet to be with Annie, he (and we the audience) wishes for the simpler times in the beginning…


8) "From Bitter to Worse" by Anouk
When it all becomes reality
That this is where it ends for you and me
I'm about to lose my mind
Will love find a way on time?
Please don't try and kiss these tears away
We know we've both have made mistakes
What do you say when it's all over?
What do you do when it's all gone?
What do you do when you get lost inside your soul?

"There was this..cancer…between us, and you let me fall in love with you!"
"Because I love you."
"Oh…because you love me? Do you have any idea how inadequate that sounds?"

Annie confronts Mitchell about the Box Tunnel 20 and their relationship falls apart.

9) "Soul One" by Blind Melon
How come, girl was there when I needed one…
Some say, open your eyes to a brighter light
Okay, open my arms they were right
Inside, pain in my heart often made her cry
Outside, I cursed the birds and the sugar sky
How long take to realize she's the one
How long until I find my lost and lonely soul one
She was my soul one
She felt like the only one
She was the sun, the sky blue eyes
She was my soul one
"You were the love of my long life."

In his final moments, Mitchell reflects on his relationship with Annie; she was the love of his life, and his soulmate.
10) "Who Wants to Live Forever" by Queen
There's no time for us
There's no place for us
What is this thing that builds our dreams yet slips away from us
Who wants to live forever
Who wants to live forever....?
There's no chance for us
It's all decided for us
This world has only one sweet moment set aside for us
Who wants to live forever
Who wants to live forever?
Who dares to love forever?
When love must die
But touch my tears with your lips
Touch my world with your fingertips
And we can have forever
And we can love forever
Forever is our today
Who wants to live forever
Who wants to live forever?
Forever is our today
"You and me…it's for eternity. Really forever."

Mitchell and Annie say goodbye. Though they are meant to be together forever, fate has other plans…they only have a brief time to be together, and never get the chance to really develop a full, healthy relationship before he no longer wants to live forever. But they can have forever in the afterlife.
..
11) "A Wonderful Thing" by Richard Wells
[Instrumental]
Mitchell dies. (And despite their issues and problems, he and Annie together were still a wonderful thing…)
12) "Unchained Melody" by The Righteous Brothers
Oh my love, my darling
I've hungered for your touch
A long lonely time,
And time goes by so slowly
And time can do so much,
Are you still mine?
I need your love,
I need your love
God speed your love to me.
I'll be coming home,
Wait for me.
Mitchell and Annie finally reunite in the afterlife after Annie crosses over a final time.
DL link:
12 Songs + Cover Art + Lyrics/Explanations
Enjoy! As always, comments much appreciated, especially if you are snagging! :)
Current Mood:
accomplished
Current Music: "Mitchell and Annie" by Richard Wells