Medium:
Television
Fandom:
The Borgias
Subject:
Cesare/Lucrezia
Title:
My Vampire Heart
Warnings:
Incest
Notes:
A mix focusing on the relationship between Cesare and Lucrezia during season 1, the light and the dark, as Cesare begins his spiral into sin. Made for
crimeson_plasma
for the holiday exchange on
cesare_lucrezia
.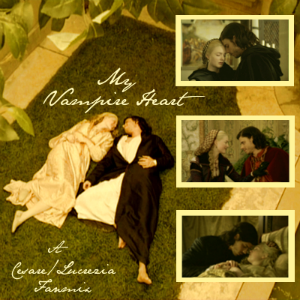 With this season 1-oriented mix, I wanted to show the two sides of Cesare/Lucrezia: the more tender, sweet light side, in which they are there for each other and Lucrezia is Cesare's world (seen in the first few songs), and the wrong, incestuous darker side. I also follow Cesare's personal progression into darkness during the course of the fanmix, as he feels guiltier about his feelings for his sister (hypothetically), and as he becomes accustomed to committing violence and murder. The final song is a character study of Cesare, showing how torn he is initially about carrying out his father's orders and the lengths he has to go to protect his family. Most of the songs are centered on Cesare's perspective, some are from both, and "E.T." is purely from Lucrezia's p.o.v.
1. "An Historic Love" by Trevor Morris
[Instrumental – Prologue]
2. "Video Games" by Lana Del Ray
It's you, it's you, it's all for you
Everything I do
I tell you all the time
Heaven is a place on earth with you
Tell me all the things you want to do…

It's better than I ever even knew
They say that the world was built for two
Only worth living if somebody is loving you
3. "I Turn to You [Stonebridge Radio Mix]" by Melanie C
When the world is darker than I can understand.
When nothing turns out the way I planned.
When the sky turns grey and there's no end in sight.
When I can't sleep through the lonely night.

I turn to you. Like a flower leaning toward the sun.
I turn to you. 'Cos you're the only one.
Who can turn me around when I'm upside down.
I turn to you.

When my insides are wracked with anxiety.
You have the touch that will quiet me.
You lift my spirit. You melt the ice.
When I need inspiration, when I need advice.

Where would I be? What would I do?
If you'd never helped me through.
4. "Only Girl (In the World)" cover by Boyce Avenue
So everyday we're not together
I hope you know that you'll be alright
Cause I...

I'm gonna make you feel like you're the only girl in the world
Like you're the only one that I'll ever love
Like you're the only one who knows my heart
Like you're the only one that's in command
Cause you're the only one who understands
How to make me feel like a man

And when you're lonely
I keep you company
Like this world was only
Made for you and me
And when it doesn't feel right with another
I hope you believe
That in a world with no light
I will be all that you need
5. "E.T." cover by Lauren King
You're so hypnotizing
Could you be the devil, could you be an angel?
Your touch magnetizing
Feels like I am floating, leave my body glowing

They say be afraid
you're not like the others, futuristic lovers
Different DNA, they don't understand you…

Kiss me, k-k-kiss me
Infect me with your love, and fill me with your poison
Take me, t-t-take me
Wanna be your victim, ready for abduction…
6. "Paradise Circus" by Massive Attack
It's unfortunate that when we feel a storm
We can roll ourselves over when we're uncomfortable
Oh well, the devil makes us sin
But we like it when we're spinning in his grip

Love is like a sin, my love,
For the one that feels it the most
Look at her with a smile like a flame
She will love you like a fly will never love you again
7. "The Tain" by The Decembrists
You're a fickle little twister
Are you sweet on your sister?
Your phallo won't leave you alone…

Darling dear, what have you done?
Your hands and face are smeared with blood…

But hush now darling, don't you cry.
Your reward's in the sweet by-and -by.
8. "Vermillion pt. 2" by Slipknot
She seems dressed in all of me
Stretched across my shame
All the torment and the pain
leak through and covered me
I'd do anything to have her to myself
Just to have her for myself
Now I don't know what to do
I don't know what to do
When she makes me sad…

She is everything to me
The unrequited dream
A song that no one sings
The unattainable

But I won't let this build up inside of me
I won't let this build up inside of me

A catch in my throat
Choke
Torn into pieces
I won't...No
I don't want to be this…
9. "My Vampire Heart" by Tom McRae
Darling I'm lost
Adrift in the dark
I'm clutching your words
To my vampire heart once more
So let in the light
Turn me to dust

Here we are
In the darkest place
My reflection
Shows only your face

And I spilled someone's blood
I broke someone's heart again
Someone you know
You're looking at him my friend

Here we are
In the darkest place
To keep from forgetting
I picture your face…

So I curse you
My vampire heart
For letting me you love you
Love you
For letting me love you
From the start.
10. "Tears and Rain" by James Blunt
How I wish I could choose between Heaven and Hell.
How I wish I would save my soul.
I'm so cold from fear.

I've heard what they say, but I'm not here for trouble.
DL Link:
10 Songs + Lyrics & Explanations + Cover Art
Enjoy! As always, comments/feedback appreciated...:)
Current Mood:
creative
Current Music: "My Vampire Heart" by Tom McRae